You are face-to-face with two of Hollywood's most unique characters who have managed to win almost every major accolade during their two decade long career. What do you say?
It's easy: you tell them the giant 20-foot high animated clitoris from their first feature film taught you more about that area of the female genitalia than your parents ever did.
It was never a risky play. How could it be? These two men had infamously rocked up to the Oscars on LSD, have almost certainly made fun of almost every minority ever and were responsible for outing Kanye West as a homosexual fish — do you like fish sticks?
The movie with the erectile part of the female genitalia at the anterior end of the vulva? South Park Bigger, Longer & Uncut, which grossed $107.2 million worldwide in 1999.
The two vulgar genii sitting before my very eyes? Trey Parker and Matt Stone.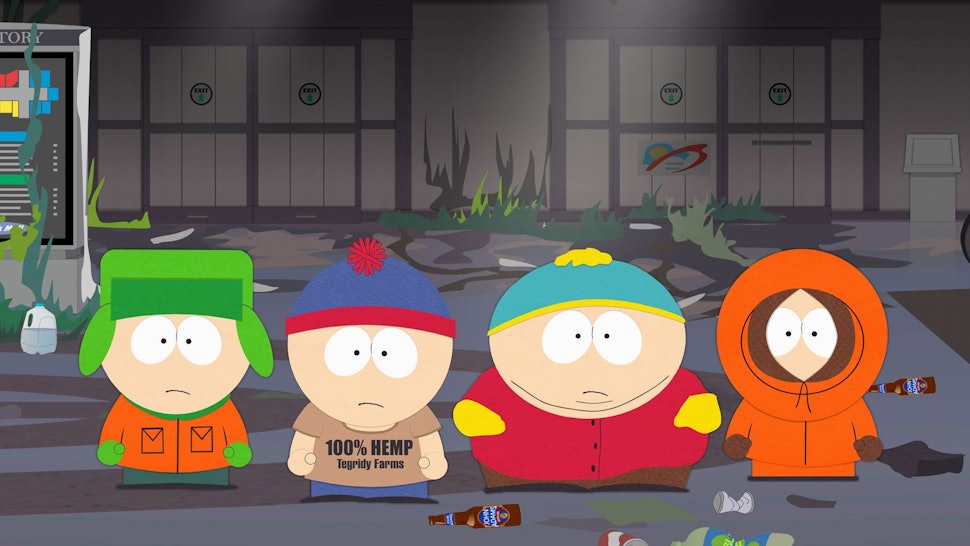 Their cartoon empire, now the stuff of legend, was famously started when the two met as classmates studying film at the University of Colorado.
Using a stack of construction paper, scissors, an old 8mm camera and single-cel animation, the pair painstakingly spent a sleepless week creating the Spirit of Christmas — a five minute cartoon about foul-mouthed, crudely animated Colorado kids watching Jesus vs. Santa.
The 1995 animation was bootlegged on VHS — there is a rumour George Clooney had it copied 300 times — and it began to circulate around Hollywood, with every network and studio wanting to meet Parker and Stone. Yet every executive told them it wouldn't work as a show.
In hindsight they might regret those comments given South Park has remained one of Comedy Central's highest-rated shows, has been translated into 30 languages and shown in 130 countries and has won five of its 18 Emmy nominations — this doesn't even mention merchandising.
Then, of course, there are the pair's other creative endeavours including the 2004 feature film Team America World Police and theTony Award-winning musical The Book of Mormon.
Currently in its 21st year of production — 277 episodes — Parker and Stone are continuing to bring South Park's topical and highly offensive trademark humour to the world.
"I think we started as a reaction to political correctness in the 90s and the 80s because TV was so shitty and American comedy was so shitty," Matt Stone told news.com.au.
And even though comedy has changed over the years, the pair have somehow managed to remain current and topical, while somehow becoming even more offensive than ever before — the first seasons are mild in comparison to Randy's Wheel of Fortune moment and what followed.
Regardless of standing the test of time, their ability to push the boundaries of what is socially acceptable is nothing short of astounding, especially given the current social landscape.
"It kind of does feel like political correctness has been back in the last few years," Stone said.
"And there is a whole commentary industrial complex right now — you put an episode out online and there's this whole digestion where everyone is like, 'This isn't OK,' and 'this was OK.'
"I don't know if comedy was ever supposed to be scrutinised at that level."
When making episodes like HumancentiPad — Kyle agrees to Apple's terms and conditions without reading, which results in him being sewn together mouth to anus with two other people so Steve Jobs can unveil them as a new product — it's hard to think scrutiny bothers them.
"We do get a pass on things because we have been around so long and we have never been sneaky about what we are, we always just do what do we do," Parker said.
Sure they have the golden ticket, but this doesn't mean it wasn't a struggle to reach this point — something rare these days given the ease of uploading your own content on YouTube, plus the amount of content purchased by streaming services like Netflix.
"It's fucking weird, there's now all these different perceptions of comedy. But I think it's way richer in a lot of ways," Stone said.
Having now built a comedy empire, Parker and Stone could take the back seat and reap the rewards of their hard work. Only this is not and will not ever be an option.
"It would be pretty tough to watch someone else's rendition," Parker said.
This is why when you look at the credits of the show you will see every single episode written, directed and voiced by Trey Parker — Stone contributes in the writing room, with voices and on the business side of things.
"That's why it's lasted, because good or bad it's all us. We get the credit and the blame," Parker explained.
One thing that might come as surprise for South Park fans is the insane production schedule the cartoon follows — explored in Comedy Central documentary Six Days to Air.
As the name suggests, an entire half-hour episode is written, recorded and animated in South Park Studios over a six-day period, comparatively other animated TV shows have production cycles that last anywhere between three to 10 months.
"For us, it has to be, 'Oh this is funny,' and just go on it for six days and get feedback immediately," Parker said.
In many ways, the pace of production and resulting comedy moves away from other cartoons and allows Parker and Stone to more closely resemble the topical humour seen in late-night talkshows — the first episode of season 21 mocked white supremacist holding tiki torches.
With Trey Parker leading the charge, the close-knit team thrive on the insane schedule which often sees them working 20-hour plus days or sleeping at the studio.
"Every year is the exact same, we walk in excited and also with dread because we're out of training thinking, 'Why the f*ck do we do this?'" Parker said.
"Then right around Tuesday we will get super scared and be like, 'F*ck, I think we're going to die,' and we want to quit after that. But, somehow we will get a show on the air, the momentum starts and you're in the season."
Having a guided tour through the studio, with the wild production schedule explained, it becomes apparent Parker meticulously orchestrates every part of the episode's production from the initial brainstorming to the finished product and everything in between.
This perfectionism will see him making changes all the way up to 7am on the day of broadcast, with the team racing to give the final copy to the network.
"Everything is just crazy focused and even though it sounds like it's just a lot procrastination and acting lazy, it's actually not," Parker said.
"It's pure focused and hyper-stressed, and it brings something 
out in both of us."
Having just started the 21st season, you could be forgiven for thinking the pair have run out of ideas for new things to joke about – especially given they want to remove themselves from the previous season which was serialised and explored the US election between Trump and Clinton.
"We didn't want to do that again and we don't really have anything new to say about the political situation," Stone said. "It's the anxiety behind the politics that we'll probably do, but were not going to do politics upfront."
Parker added that because he and Matt Stone have always approached South Park in the same way, the cartoon resembles their own lives as much as current events.
"Because we do the shows ourselves still after all these years, you can definitely look at the different years and see kind of where we were at without lives like an album," he said.
"Things that we find funny are definitely different, although a lot of things are the same.
"And some of our favourite episodes are timeless and have nothing to do with what's happening in the world. We love that sh*t too."
If frantically creating a cartoon series for the past two decades — plus feature films and a stage show — wasn't enough, Parker and Stone have also recently finished work on a new video game.
As a sequel to the 2014 role-playing video game South Park: The Stick of Truth, The Fractured Butt Whole takes all of the show's characters and explores the superhero genre.
Because of time needed to develop and design a video game, the pair did not have the same luxury of working on the story until the last minute to ensure they were being topical like they do with the cartoon.
As such, writing comedy for the game required them to think outside of the box for jokes and if making the difficulty increase depending on your skin colour is any indication, the restraints have done very little to remove their trademark humour.
"Things like video games are interesting because you start exploring and creating a world that can live on its own in some ways," Parker said.
"It's all about second guessing what a player would do because that's part of how you're f*cking with them."
As for the future, the pair said they will continue to make the show as long as people will allow.
"We're going to end up be the guys who are still stuck on stage at 75 doing vaudeville for the kids who will all be like, 'Look at these two old guys up here still doing fart jokes,'" Stone said. For the sake of humour, we can only hope this will be the case.